Having HAC-100PM, secure management becomes much easier!
Having HAC-100PM, secure management becomes much easier!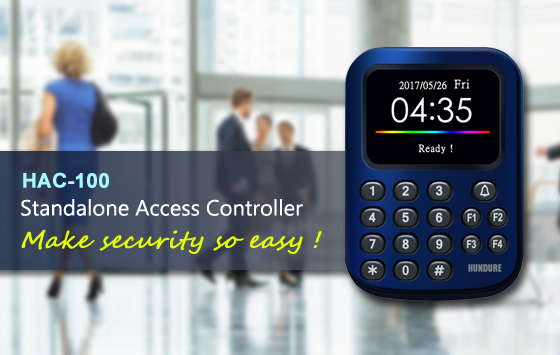 HHH is a well-known 3C Chain Store that owns 50 Chain Stores around its country. To serve the growing customers in the south area, they decide to open a flagship store there. Except the sales center, the store also has customer service center, manage office and warehouse. Thus, they need a security system for access control, time attendance and elevator control.
They are looking for a system with these features.
1. Time and attendance management:
Store open from 10:00 to 22:00, Monday to Sunday. The multiple shift time schedule is a must.
The system must support these work schedules that cover office staffs, store staffs, customer service center staffs and warehouse staffs.
2. Access control management:
Warehouse must be strictly controlled to prevent from theft.
Different access levels for individual staffs are needed.
3. Elevator floor control:
Need a system to avoid the guest intrusion.
Some of 3C products have higher values so the floor control is asked for a higher security.
The last one, this system must be very friendly, easy to use, easy to install and maintain. The scalability for future extension is deeply considered as well.
"This is a perfect solution beyond my expectations. No matter system integration or software settings, I can easily complete them with few steps." the administration manager Sam Lee said. "HAC-100 fully meets our access control requirements, whatever time zones/time schedules settings, holiday settings or alarm trigger settings. The slave reader can be added for two way control and the Ethernet (TCP/IP) interface to PC that is very convenient for our management. It also can be used as a time attendance device to program the day, time, and duration of a series of bells. More amazingly, the elevator control panel HDE-100 can be easily setup and seamlessly work with HAC-100 under HAMS to fulfill access control, the attendance and elevator floor control. We are very satisfied with this solution and will use it again to our new store in the future." Sam Lee praised.
Key features of HAC-100PM:
- Ethernet (TCP/IP) interface
- 2.8" Color LCD
- 40,000 cardholders
- 40,000 events
- Built-in 3 sensors (Door Sensor x 1, Exit Button x 1, Tamper Switch x 1)
- Built-in 1 relay (for Lock)
- Optional output device ACU-30
- Wiegand / T2 slave reader for in / Out control
- 32 work shifts / 32 scheduled bell (work with ACU-30)