HUNDURE PXR-Q3 QR Code Reader
HUNDURE PXR-Q3MWS QR Code Reader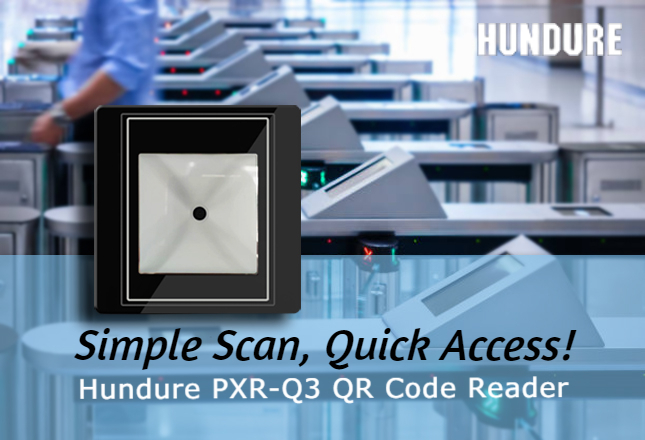 Simple Scan, Quick Access!
PXR-Q3 QR code reader has fast scanning speed and accurate recognition ability, and can recognize various types of QR Codes shown on mobile phone screens or paper. It also has high compatibility and can be connected to RS-485 or Wiegand interface access controllers. It is suitable for various application scenarios where the mass people enter and exit frequently. It can be used in commercial building visitor access management, scenic tourist management, and community visitors access management, administrative hall access control management, museum visitor access management, access gates, etc.
QR Codes can be generated quickly and in large quantities. If QR Codes are used to replace physical cards, the cost of issuing cards can be effectively reduced, especially for applications that require the issuance of a large number of temporary cards or passes. PXR-Q3 is the best and lowest cost access control solution for upgrading traditional card access control systems in various industries.
In addition, the QR Code can easily be stored on mobile devices. It can be used as a portable and temporary access key and emailed to guests in advance, so the B&B host does not need to wait for the guest arrival to give the room key. It is an ideal and smart solution that can reduce the labor costs and achieve the unmanned services for Visitor, B&B and Coworking Space managements.
PXR-Q3 supports static QR Code (displayed on a smartphone or printed on paper) and dynamic QR Code (generated by APP). The dynamic QR Code has much higher security, it will change the QR Code graphics in a limited time. Even if someone deliberately copy the graphics, it cannot be used.
The convenience is far more than your imagination that you can fully utilize QR code to the smart access. PXR-Q3MWS is a simple, affordable, safe and convenient access reader.
Features
Conforms to ISO 14443A, supporting Mifare card.
Unique ID or Block read format supported and programmable key value.
Supports 7 bytes serial card number.
Provides dual communication interfaces (Wiegand + RS-485) for more flexible applications.
Support static QR code (smart phone or paper printing) and dynamic QR code (with APP); Replace RFID cards sensing by scanning QR Code.
Able to set RS-485 Node ID, which can be connected to max. of 16 readers.
Able to set Wiegand output to W26 / W34 interface through RS485 interface.
Reader's Buzzer control can be set by upstream control panel.
Wide range of operating temperature to meet the requirements of tropical or frigid zone climate environment.
Watchdog function secures system free from halting.